Our Mission
Spreading love, one box of macarons at a time!
Leila Love French Macaron is the best selling Macaron company in the United States on Amazon.
We offer variety of delicious luxury flavors for our macarons, hand crafted and packaged beautifully in fancy boxes. We create luxury delicious flavors using the best and fresh ingredients. The entire fruit fillings are made from scratch and has no preservatives or stabilizer. Always ready for gifting! Always made to order and packaged individually to preserve freshness. Shipping nationwide.
Most of our products are handcrafted French Macarons – delicate meringue pastry cookies, made of almond flour, sugar and egg whites. The decadent fillings are made with high quality chocolate and seasonal fruit ingredients. Leila Love French Macarons are made fresh to order and are packaged beautifully so they're always ready for gifting!
Unlike other Macaron producers, our Macarons and tarts are not imported from China, Taiwan or anywhere else! We bake Macarons and tarts every single day and ship them all over the United States and Canada. We are only available on our Amazon store front and the best way to ensure you receive our products is by ordering directly through our online store here on our website.
For larger quantities or more information contact us: info@leilalove.com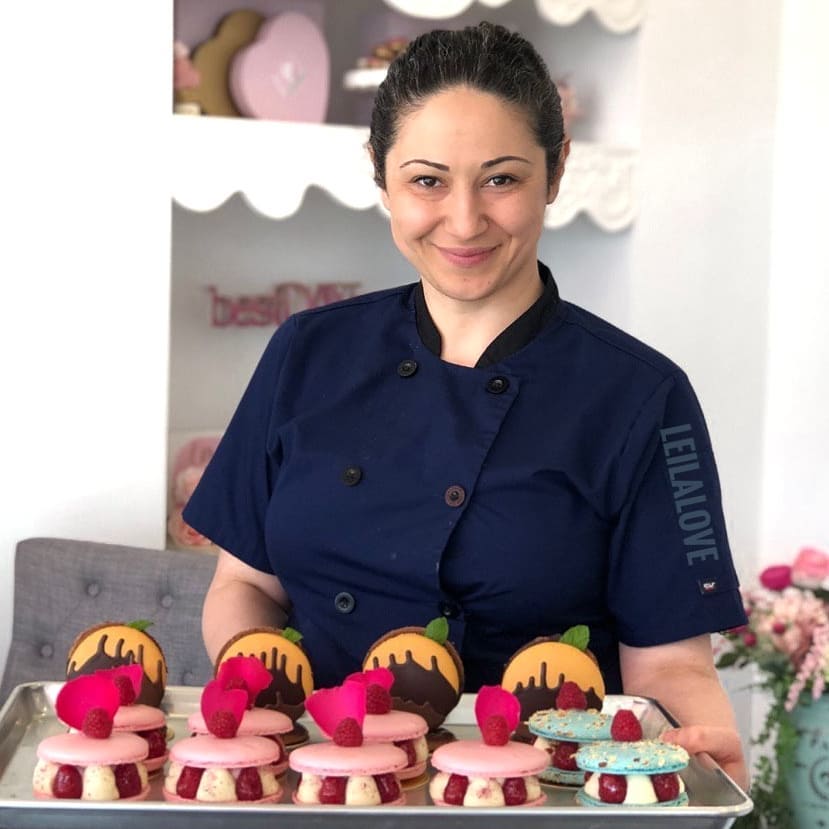 ABOUT LEILA
My passion for the pastry arts ignited at the age of twelve, when I eagerly began assisting my aunt at her esteemed cake business in Tehran, Iran. Following the completion of my French linguistics degree from Tehran University, I delved into the realm of French pastry literature. Driven by an ever-growing fascination with the art of pastry making, I embarked on the creation of exquisite wedding cakes and delectable desserts.
Recognizing the importance of continuous learning, I embarked on a transformative journey across Europe to train under the guidance of accomplished pastry chefs, immersing myself in the world of artisan chocolate and pastries. In pursuit of my aspirations as a pastry chef, I made the decisive move to Chicago, a city that promised to nurture my culinary ambitions.
It was an esteemed privilege to collaborate with Mary Maher, widely recognized as America's preeminent cake maker and decorator, during my tenure at "The Cake Girls." In less than a year, my accomplishments caught the attention of prestigious publications such as Pastry & Baking North America and Food Art magazine, garnering media recognition for my achievements.
While furthering my education, I had the invaluable opportunity to master the art of artisan bread making under the tutelage of Melina Kelson, the first certified master baker in America. Equipped with a wealth of expertise and experience, I now find myself in the process of compiling my finest recipes and insights, aspiring to publish a bilingual book in English and Farsi. Additionally, I share my passion and knowledge as a pastry instructor at Kendall College in Chicago.
Presently, I am the proud proprietor of LeilaLove French Macaron – an online store and a small enterprise, skillfully crafting a wide array of Macarons and other authentic French desserts in Park Ridge, IL. This endeavor allows me to showcase my unwavering commitment to culinary excellence and provide discerning customers with the finest delicacies that epitomize the artistry of French pastry.