Custom French Macaron Towers in Park Ridge, IL and Northwest Suburbs of Chicago
Welcome to LeilaLove French Macarons, your premier destination for exquisite custom French macaron towers in Park Ridge, IL and the surrounding northwest suburbs of Chicago. Indulge in the delicate flavors and stunning designs of our handcrafted macarons, expertly arranged into beautiful towers that are sure to elevate any special occasion. Whether you're celebrating a wedding, birthday, or corporate event, our macaron towers are the perfect centerpiece to impress your guests and satisfy their sweet cravings.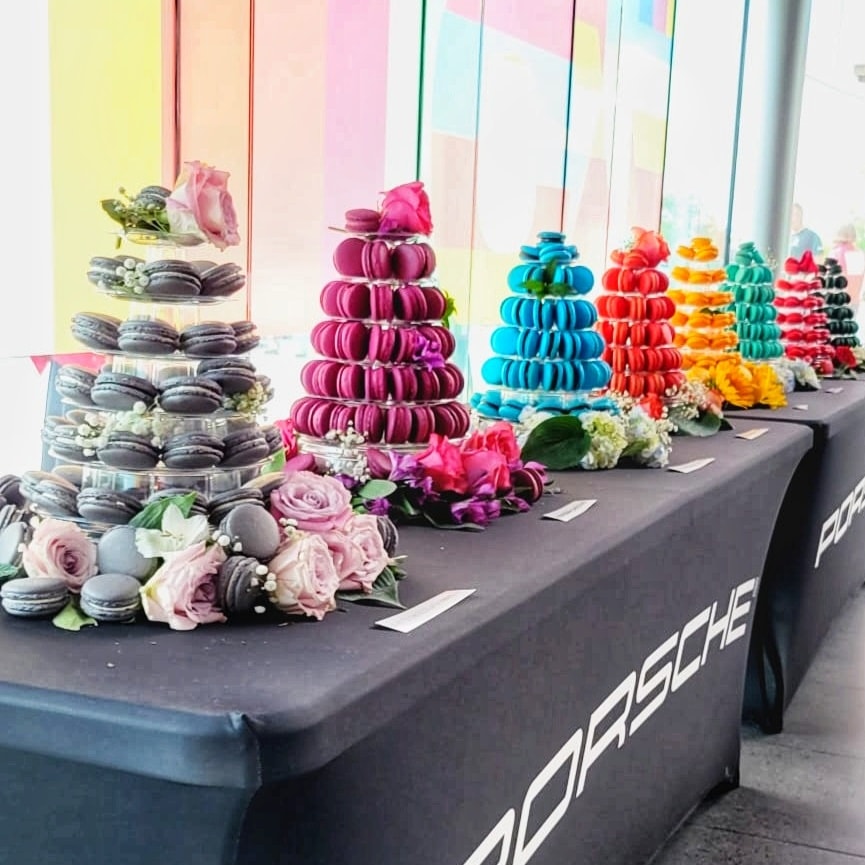 Porsche 75th Anniversary Party Custom Macaron Towers
LeilaLove French Macaron towers custom-made for the Porsche 75th Anniversary Party at Porsche Exchange Premier Dealer in Highland Park, IL
Custom French Macaron colors and flavors paired with flower arrangements to reveal all Porsche colors.
Flavors included Ruby Raspberry Chocolate, Pistacchio Chocolate and more.
Order Your Custom Macaron Tower Now!
Please note: quotes for custom colors (like our Porche colors shown above) will be provided upon request. Minimum 60 pieces required.
Order a Macaron Tower Today!
Elevate Your Event with French Macaron Towers
At LeilaLove French Macarons, we take pride in creating unique and personalized macaron towers that exceed your expectations. We use only the finest ingredients and traditional French techniques to craft each delicate macaron with precision and care. From classic flavors like vanilla and chocolate to inventive creations such as lavender and salted caramel, our wide selection ensures there's a macaron to suit every taste. With our custom macaron towers, you can showcase your individual style and color scheme, creating a stunning visual display that will leave a lasting impression on your guests.
Get Inspired - Our Previous Creations
Order Your Custom French Macaron Tower Today
Make your next event truly memorable with a custom French macaron tower from LeilaLove French Macarons. We proudly serve the Park Ridge, IL area and the surrounding northwest suburbs of Chicago. Whether you're hosting an intimate gathering or a grand celebration, our macaron towers are guaranteed to add a touch of elegance and sweetness to your special day. Contact us today to discuss your customization options and place your order. Trust us to create a macaron tower that not only looks exquisite but also tastes absolutely divine.